COVID-19 Screening Info
---
---

---
COVID Reminders for Startup of Season
Players and spectators can arrive 30 minutes before the activity and are requested to leave 15 minutes after. Please avoid gathering in arena common spaces.

All participants and spectators must self-screen prior to entry into the arena. We are working on a digital tool but for now, please use with the attached city screening tool or the provincial screening tool : https://screening.hamilton.ca/Login?ReturnUrl=%2f
Please have your Covid monitor at the entrance 30-35 minutes prior to the activity. All participants and spectators must sign in and confirm that they have passed the screening. Please retain the sign in sheets for contact tracing purposes. These sheets can be found in our Covid Protocol Document found on our website and attached here.
All participants and spectators must be masked properly (covering the nose and mouth) at all times while in the facility except when on the ice.
Spectators must socially distance while in the facility.
Players may use change rooms. They should remain masked as long as possible and should distance as much as possible in the change room.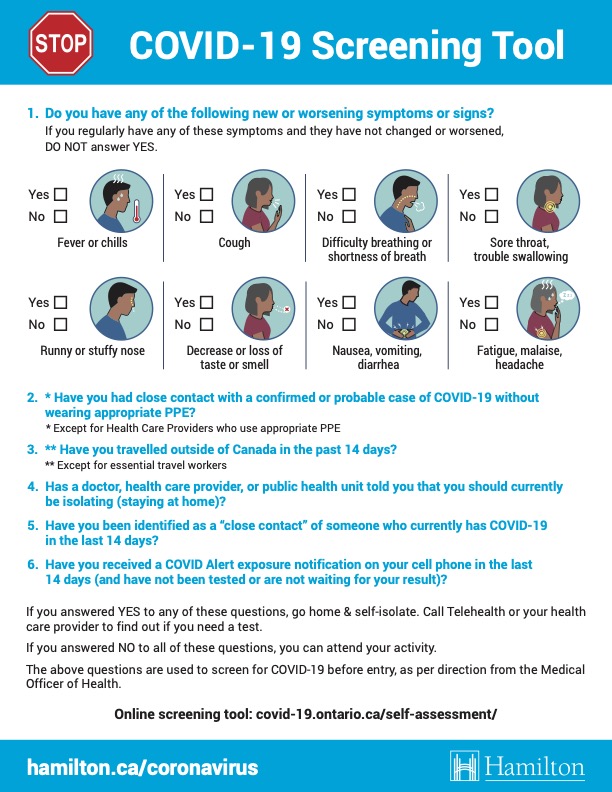 CLICK HERE to see our COVID-19 Response Protocol